Galaxy Guitar Products Presents:
The Ultimate Heavy Metal Guitar: Galaxy Trans Starr™
ROCK THE WORLD!
Click to Enlarge Images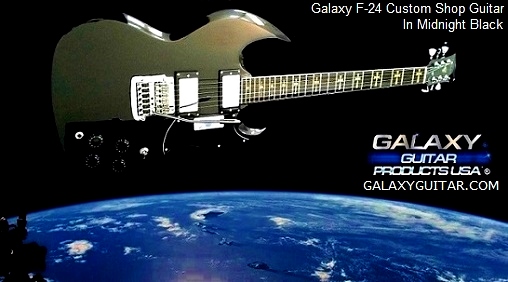 Welcome to Galaxy Guitar Products USA Custom Shop!
---
If you're a Guitarist looking for a special new guitar that Rocks With Power, you've come to the right place. Galaxy Luthier's built the New Trans Starr Guitar™ delivering a sleek custom instrument built to the highest standards. When the best is your only option this Metal Warrior delivers. A professional high quality instrument with many custom options as standard equipment. The Galaxy Trans Starr™ features a killer 24 fret fast ebony fingerboard with our exclusive slick high gloss finish. Galaxy Solar Flare chrome covered, double wax potted humbucker pickups™ deliver the goods. Crushing power chord's, blazing Solo's. Galaxy techs pushed until we had a rock solid pickup, with great tone.A heavy bottom that ignites the midrange & high end. We then bolted down a Kahler surface mounted X-Trem Tremolo The Kahler is recessed mounted, keeping even more sustain within the wood without routing through the entire body. Galaxy deluxe non slip chrome tuning key's work with the Kahler tremolo, a locking nut is not needed, keeping a vintage look. Galaxy designed our easy access 1 screw Cross truss rod cover. Loosen, slide the cover to the side,make your quick adjustment, re-tighten the cover, you're done. Truss rod adjustments are a snap. We use 11 high quality Oyster Pearl cross inlay fretboard position marker's. Galaxy Guitar Products USA designed & built this guitar for the Hard Rock Guitarist, adding a multi colored, hand inlayed Abalone Galaxy logo. If you play Hard Rock Music, the Galaxy Trans Starr Guitar is built for you.
Trans Starr. Bigger, Bolder, Stronger.
---
Click to Enlarge Images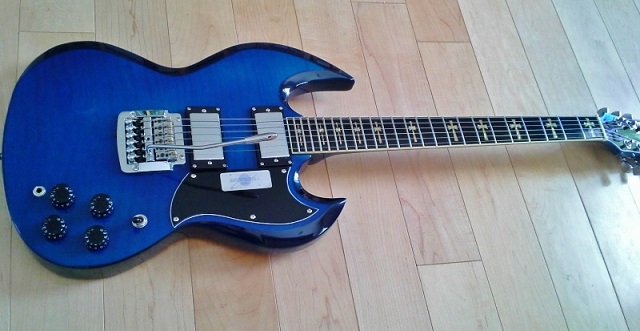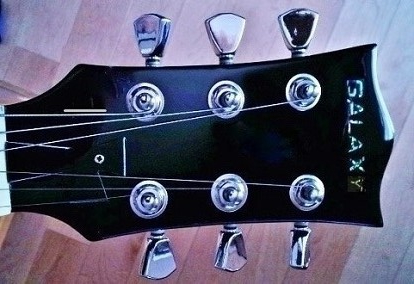 The Galaxy Difference:
---
We made it heavier with a thick, bolder top cutaway adding more sustain. The body is made from High Quality Basswood, known for it's sustain & warm bass producing characteristics. A gloss finished ebony fretboard for fast shredding. The 25-1/2" scale neck is made of High Quality Hard Rock Maple Wood. Set neck construction provides a solid, quality build. The Galaxy 24 medium fret 25-1/2" scale custom shop Trans Starr™ is a unique sounding guitar. We developed our own well balanced, wax potted Humbucker Pickups, to get the tone we wanted right. Galaxy Solar Flare pickup's™ blast out a powerful, well balance tone with an aggressive high end. The pickup frequency response captures the slightest percussive pick attack of your playing.
State of the art finishes.
---
Click to Enlarge Images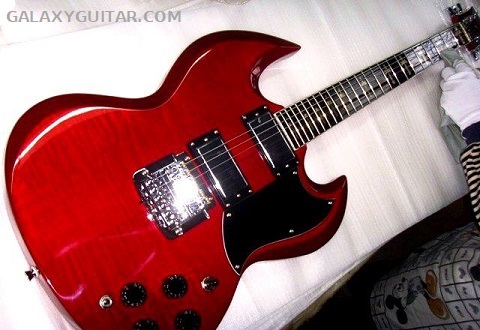 Candy Trans Cherry,
With Flamed Maple Wood Tops.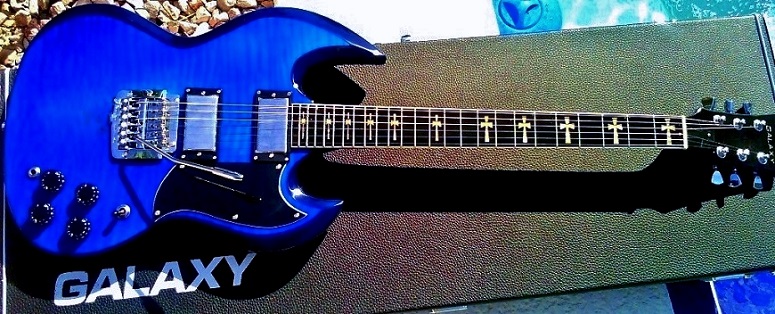 Trans Blue,
With Flamed Maple Wood Tops.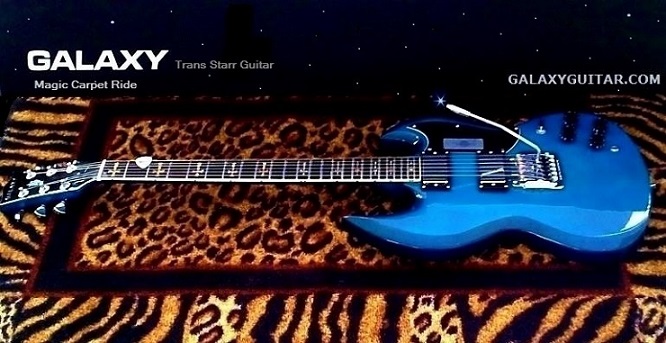 High Gloss Trans Blue
Magic Carpet Ride.
Every Galaxy Trans Starr™ receives a final
inspection before it ships from our Custom Shop.
Order Here:
We challenged our custom shop:
Build a $4,000 High Quality, Hand Made Hard Rock Guitar
for less then half that investment without any compromise.
Click to Enlarge Images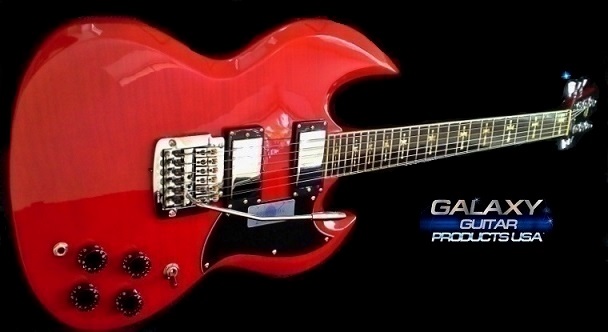 Trans Cherry,
With Flamed Maple Wood Tops.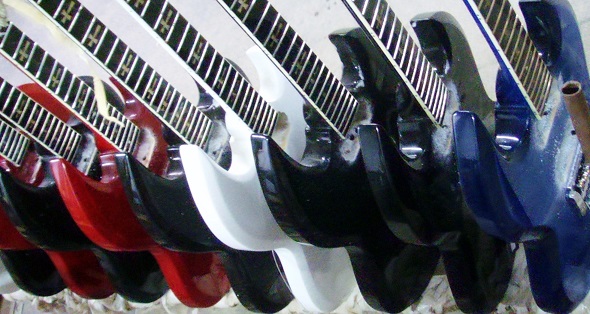 Custom Shop Builds In Progress.
Click to Enlarge Image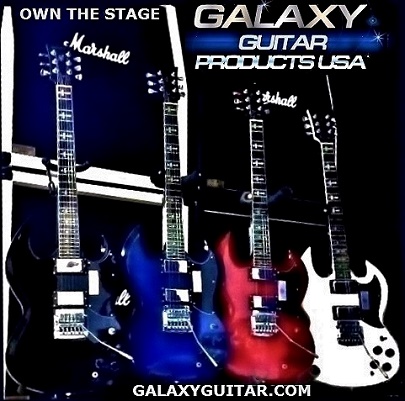 Order Here:
Right Now: Free Shipping in the USA.
Click to Enlarge Image
All Galaxy Trans Starr's™ ship in our Vintage Style Galaxy Cases
in these colors: High Gloss Midnight Black, High Gloss Snowblind White,
High Gloss Trans Blue, High Gloss Trans Blue With Flamed Maple Wood Top,
High Gloss Trans Cherry, High Gloss Trans Cherry With Flamed Maple Wood Top.
---
---
Click to Enlarge Images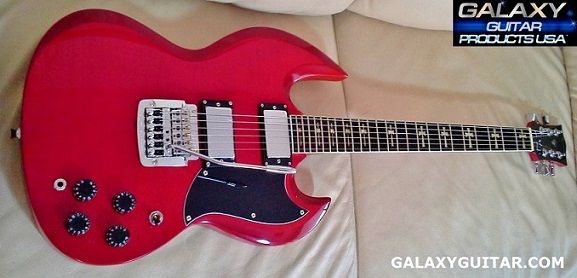 Shown in Trans Cherry.

Shown in Snowblind White.
Galaxy Guitar builders discovered making the body more contoured & the cutaways thicker, stronger & longer, we were able to produce more sustain. Similar custom guitars will range from $3,200 to $4,900. You would have to wait months to over a year to have one built. Galaxy Guitar Products has Trans Starr's ready to ship worldwide. You can have an exciting looking guitar with custom made quality without the extreme pricing or long wait of a custom build. Galaxy's MSRP retail price is $2,300.00. Your price: $1,700.00, includes $70.00 Galaxy Hard Shell Vintage Style Case Free. Plus Free Shipping in The USA! Intl customers email us for air freight shipping options. All Galaxy Guitar USA Instruments come with a 90 day Limited Warranty. 365 days of tech support if needed for 10 years. Visit our Policies page for details.

On arrival to you, the guitar will be ready for action. The fret-board will be fast & smooth, never gritty like guitar stores where 100 people have played you're guitar before you purchased it. Our tech's are musician's, they take extreme pride in the instrument they built. Your Galaxy tremolo will be adjusted, your string action will be low. You will notice right away this guitar plays exceptional. A brand new set of Ernie Ball Stainless Steel 009 gauge string's are installed prior to shipping. Your Galaxy Trans Starr™ Metal Warrior arrives Armed & Ready for action. Have questions? We are always happy to hear from you, use the Contact Us tab.
Order Here:
---
---
Randy Young test drives the Galaxy Trans Starr™
---
---
Click to Enlarge Image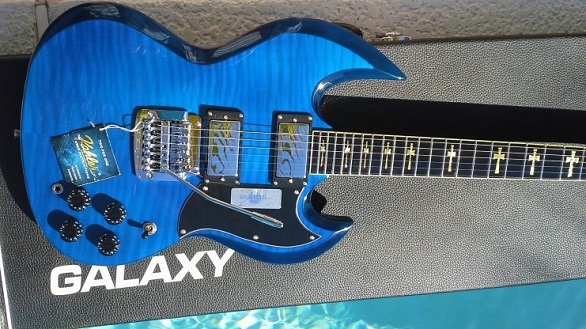 Order Here:
Click to Enlarge Image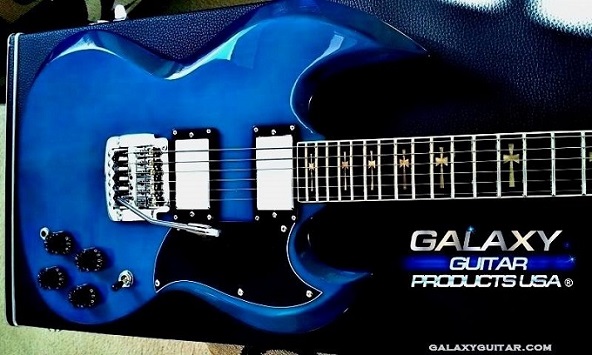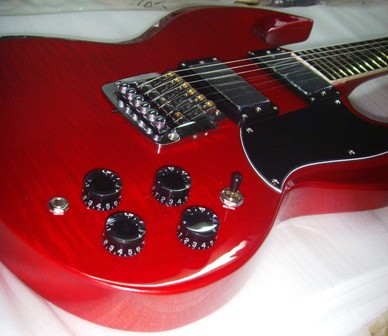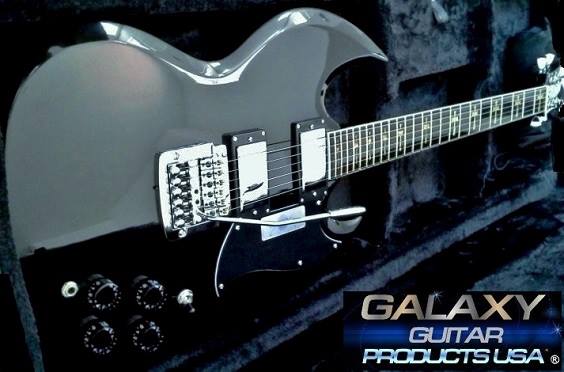 ---
---
Click to Enlarge Image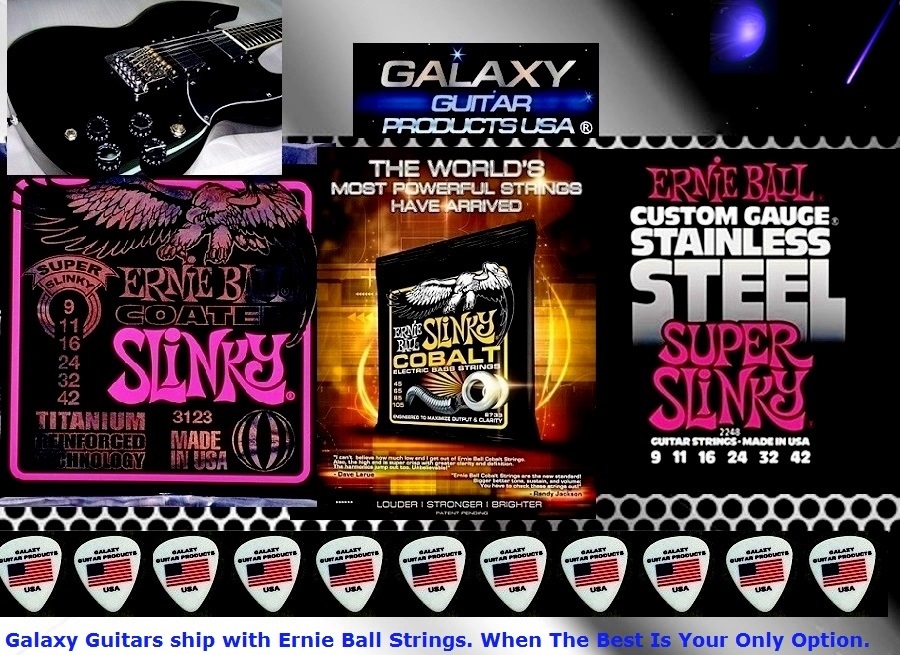 Galaxy Guitar Products USA is proud to announce our partnership with Ernie Ball Guitar strings! All Galaxy Trans Starr™ Custom Shop Guitar's will be delivered to you with Ernie Ball Super Slinky Stainless Steel 009 Electric Guitar Strings installed with an extra free set.
---
---
Order Here:

All Galaxy Guitar Products come with a 90 day warranty.
Tech support for 10 years.
---
---
Galaxy guitars are always handcrafted. Quality updates, design changes & materials can change. Galaxy Guitar Products USA reserves the right to change specifications without notice. We will always provide accurate photos on this site of the guitars you are purchasing. All order's are verified via email before we process them. Consult with us when ordering. Galaxy ships worldwide. We ship our custom guitars air via FedEx & United Parcel Service. International shipments must clear customs in your country. Customs charges are not covered by Galaxy. For sales questions, click & fill out the contact us form.
For Business Inquiries, email us: admin@galaxyguitar.com International Tel:702-363-5465.