IF YOU HAVE A FINGER INJURY YOUR SEARCH IS OVER.

Yes you can play your instrument in comfort. Galaxy FT-1 Finger Protectors™
Used by Injured Guitarists, Bass Players, Violinists, Banjo, Mandolin, Harp, Horn Players.
If you're a serious Musician, Invest in the #1 Musical Finger Protector on Planet Earth.
The Most Important Gift You Can Give a Musician With a Finger Injury.
Helping The World, One Musician At A Time Play Their Instrument In Comfort.
---
Breaking News: Galaxy Ultra-Flex Finger Protector's are here.
Galaxy FT-1's now available in 2 sizes & custom order sizes.
The Galaxy FT-1 helps non musician customers as well.
Galaxy's New FT-2" knuckle joint Finger Extension.
Silver Flash Stripes now available on all colors.
Add a Galaxy T- Shirt to Your Order.
---
---
Click to Enlarge Images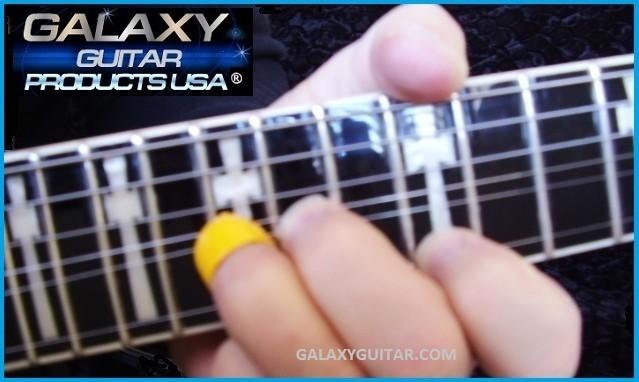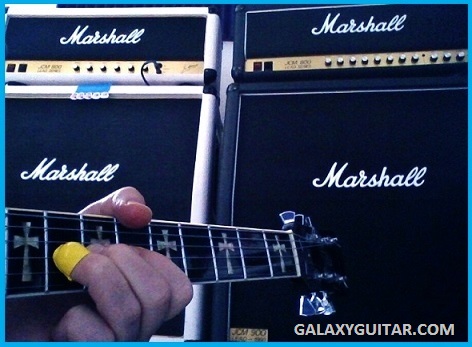 We Ship Worldwide 7 Days A Week.
Our Customers Receive VIP Gold Service.

THE FUTURE OF FINGER PROTECTION IS HERE NOW.
GALAXY ULTRA-FLEX FINGER PROTECTORS™
Available in Normal & Large Sizes.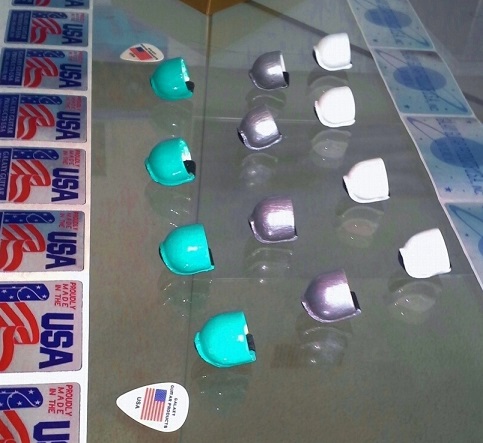 Premiering More New Colors.
Caribbean Aqua, Brushed Silver,
Snowblind White. Available in Ultra-Flex Sizes.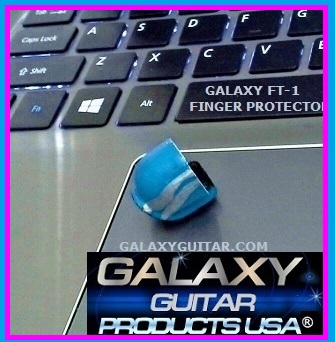 Optional Silver Flash Stripes.
FT-2" Long Finger Extensions For
Knuckle Joint injuries, details below.
---
---

---
We are musical instrument Finger Protector Experts. For 19 years Galaxy Guitar Products USA has offered the patented Galaxy FT-1 Finger Protector™ Worldwide. It is your only option if you want a professional solution that is made for Guitarists, Bass Players, Violinists, Cellists, Stringed Harp Players, Mandolin Players, Banjo Players, Saxophonists, Clarinetists, Keyboardists & more. The Galaxy FT-1 Finger Protector™ is provided to help Musicians with injured finger tips. It is not a rubber glove type protector you see online or in guitar stores. Those items will not help a finger tip that has been severely injured or cut off, Galaxy's FT-1™ will. Many clients come to us after they have wasted time with a substandard protector or someone making a home made item that does not work. Our FT-1 is the only musical finger protector that is designed to lesson pain from an injury by removing most of the pressure at the finger tip, displacing it around the sides. The Galaxy FT-1 is tailored for musical instrument playing. A rubber glove or finger cot type product will not provide this level of protection. Even Doctors that are musicians with finger injuries are our customers. Put our 19 years of experience in musical finger tip protection to work for you. The FT-1 is not a medical device, it is a musical accessory & will last you years. It increases the speed of hammer on's & can develop a unique vibrato. Read Client testimonials below. The Galaxy FT-1™ is sold as one, it helps hundreds of Musicians worldwide each year regain the ability to play their instrument in comfort. As you get use to using the FT-1 no matter what instrument you play it can help you over come an injury challenge, enabling your unique musical style to develop & excel. If you experienced a loss at the knuckle joint, review our Galaxy FT-2" Finger Extender™.
Click to Enlarge Images.
Galaxy Ultra-Flex Finger Protector's™.
Available in 5/8's & 3/4" Need a smaller or larger size? Custom order one.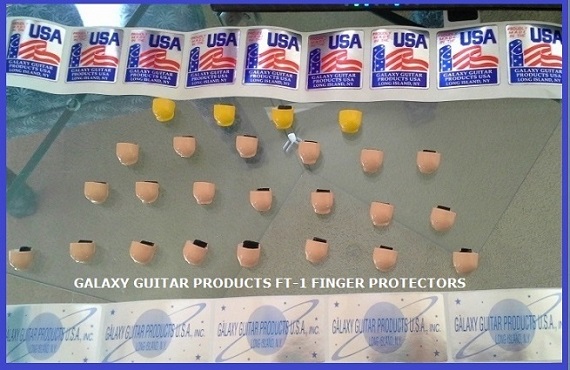 FT-1 Shown In Flesh Tone & Gloss Yellow.
Standard Sizes $117.00, Custom Orders: $247.00.
More Color Options shown below.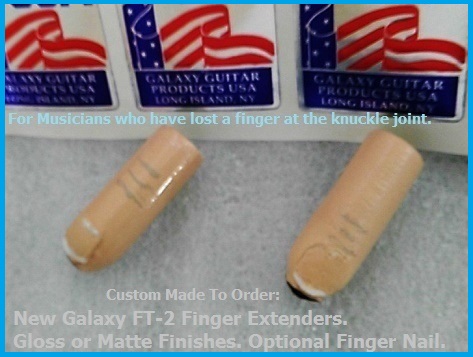 New Galaxy Custom FT-2 Finger Extenders.
Available Circumference Sizes: 1/2", 5/8's,
Large 3/4", 7/8's & 1-inch. Details Below.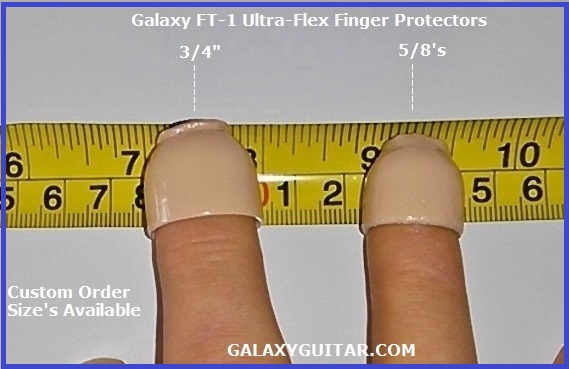 Finger Entrance sizes displayed in inches.
Measure & Compare Your Finger Size Carefully.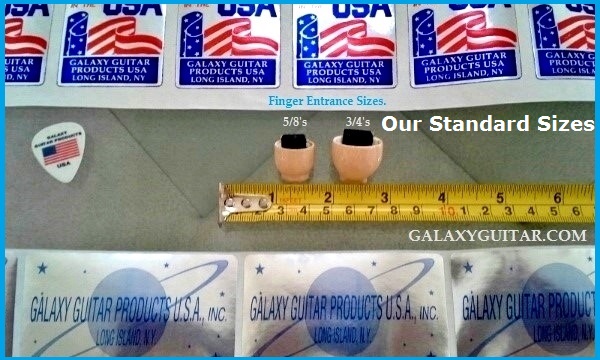 Customized Orders Accepted As Well.
Custom Order Details Shown Below.
Order Here:
You can spend $7,500 for a Prosthetic, will it be tailored for Musical Instrument Playing? No. You can spend $10.00 for rubber glove finger cot protectors, will they stop the pain from your severe injury? No. Or you can invest $117.00 for our Ultra-Flex FT-1 Finger Protector™. The #1 Musical Finger Protectors made in the Entertainment Capital Of The World Las Vegas Nevada USA. Thousands le$$ then a Prosthetic. Meticulous hard work goes into making each FT-1. Our tech's spend 7 hours over 3 days making each Galaxy FT-1 in batches. Our cores are fabricated then a special wash is applied to sanitize them. Precise cutting & bonding of quality selected black suede leather is next. No easy task getting leather to bond permanently so it last's you years. A final cleaning of the core exteriors in preparation for painting then 4 coats of special non irritant paint are hand applied, heat cured between coats to a gloss finish while sealing the leather edges. A week to fully cure then FT-1's are ready to ship helping another injured Musician. Your Galaxy FT-1 is crafted for you by a Musician, not stamped out of a machine. Surgeon's, Insurance & Prosthetic Companies contact us to form a Finger Protector for their Musician clients. You're worth having the highest standard in Musical Finger Protection. It is your finger. The Galaxy FT-1 can get you back to playing.
---
GALAXY ULTRA-FLEX: FT-1 & FT-2. Galaxy Guitar Products introduces New Ultra-Flex FT-1 Finger Protectors™. Completing months of intense testing- working with our new Ultra-Flex formula & core's to get them perfect. Galaxy Ultra-Flex FT-1 Finger Protectors™ are now available. Ultra-Flex FT-1 Finger Protectors™ use our new core's formulated to our meticulous specifications. With input from our Customers Worldwide, Galaxy's Special Ultra-Flex core's add flexibility with firmness. They will also accommodate many requests for a larger size to fit 3/4 inch circumference fingers & knuckle joint's while still providing the famous Galaxy FT-1 Finger Protection. You can even squeeze Ultra-Flex or warm them up with a blow dryer on low heat to increase a bit more finger room. Galaxy Ultra-Flex Finger Protectors™ have the right balance of semi-rigid flexibility & comfort with durability to last you years. We now offer The Galaxy FT-2. A Custom made 2 inch knuckle joint finger extension. The FT-2 is not a medical device, it is a musical accessory to help musicians that have lost a larger portion of the finger, enabling them to reach & press down firmly on their strings or keys on a musical instrument. Musicians that can not afford a custom made medical finger prosthetic our FT-2 finger extension is the way to go. Details on custom orders are below. The Ultra-Flex outer surface is much like a Gel-Coat feel. Our new formula hug's your finger enhancing inside traction preventing the FT-1 & FT-2 from coming off your finger when playing. New FT-1 Ultra-Flex core's measure 1 inch in length. They are 1/8th of an inch longer then our original FT-1, preventing cuticle pressure. For Serious Musicians with a finger injury who want state of the art Finger Protection, get the ultimate new standard in professional musical Finger Tip Protection- Galaxy Ultra-Flex FT-1 Protector's™. Currently available in 5/8's & 3/4's size. Available Colors: Flesh-Tone, Electric Blue, Electric Blue W/ Silver Metallic Flash Stripes & Gloss Yellow. New colors: Caribbean Aqua, Brushed Silver, Snowblind White available in both sizes. Investment pricing for Galaxy FT-1: $117.00 each. Ultra-Flex FT-1 Custom Size Orders are available in all colors for $247.00 USD. Galaxy FT-2™ Custom Made Finger Extensions are $437.00. Currently we are offering Free shipping in USA. International Customers add $23 USD for Intl shipping & processing Charges. Galaxy Guitar Products is fully dedicated to help you regain your ability to play & excel on your musical instrument or any type of keyboard.
---
SIZE, MEASUREMENT, PRICING INFORMATION:
Galaxy FT-1 Finger Protector's™ are sold as one, They measure 1 inch in length. The finger entrance is 5/8's of an inch in circumference. This will fit a average size finger. Our larger Ultra-Flex finger protector's measure 3/4's of an inch interior circumference. If you need a larger size custom order's are available. The large size can be adjusted for a bit more interior room. We suggest you measure your finger carefully to insure a proper fit. Here is how to accurately measure: Lay your finger tip area over a tape measure, press down slightly, if your finger measures 5/8's of an inch across You need our normal 5/8's size FT-1. If your finger is a bit wider measuring larger then 5/8's to 3/4's of an inch across or larger, you need our Large size or a Custom FT-1. For smaller size fingers, White Medical Tape or 2 sided tape wrapped around your finger can be used for a snug fit or shape your finger that is a bit larger. There's a grip inside that can be removed for a bit more space. We do not guarantee the FT-1 Finger Protector will fit or work for you. Due to the Sanitary nature of this product worn on the finger there are no returns. Our Large 3/4's" & 5/8's" are both available in our New Ultra-Flex core shells for $117.00 USD.
---
GALAXY CUSTOM VIP FT-1 & FT-2 ORDERS: We can accommodate specific client requests such as having Your Custom Galaxy Ultra-Flex Finger Protector™ made to fit a thin finger, smaller then 5/8's down to 1/2" or for larger fingers: 7/8's to 1" finger circumference size's. We now introduce The Galaxy FT-2 Finger Extension™. It is a 2 inch long finger extension for musicians or non musicians that have lost the finger from the knuckle joint forward. FT-1 Custom order option's include Galaxy's Micro-Strip Black Suede Inserts for a snug custom fit. You can custom order Silver Metallic Flash Stripes over any color. Custom orders take about 5 to 7 days to complete & ship. Considering a custom made medical prosthetic can take much longer, for thousand'$ more of a financial investment & are to soft for these applications. All Custom Order's are fabricated in our new Galaxy Ultra-Flex™ Formula. Your investment in a custom made FT-1 finger protector is $247.00 USD. A Custom made Galaxy FT-2-inch Finger extension™ is $437.00, FT-2 extension's are available 1/2", 5/8's, 3/4", 7/8's, 1 inch interior circumference size's. FT-2 finger extensions are available in Flesh Tone color & can be ordered in Matte or Gloss finish with or without a simulated Finger Nail & no leather bottom strip if wanted. For musicians a leather strip is standard. Currently Galaxy offer's free shipping in the USA. International orders add $23.00. To order click any "BUY-ME" Tab fill out all required fields, check the Custom FT-1 or FT-2 box on our order form. We then will e-mail you a custom option confirmation form & request photo's of your finger over a tape measure for proper measurement analysis. We then can review your requirements with you before the order is processed.
---
DOMESTIC & INTERNATIONAL SHIPPING: We currently are offering free shipping within the USA. Intl shipping rates with export paper work preparation, Intl credit card processing fees continue to rise every few months by service providers. We are trying to keep your costs down as much as we can. International customers please add $23.00 USD for U.S. Customs paper work prep, Intl credit card exchange processing fee, Intl shipping. United States Over Night Shipping Service is now available for $37.00. We process & ship your FT-1 order to you within 24 hours or less after you have completed & returned our verification & authorization agreement e-mail. When you order check your email or bulk e-mail folders, we are sending you the agreement & order confirmation. Have questions? Not sure what size may be best for you? We are always happy to hear from you, use the "Contact Us" tab located at the top of this page.
---
Galaxy's FT-1 is your only choice if your serious about your playing & want professional Finger Tip Protection. Prosthetic medical companies refer us musician clients. To have this made by them would cost you $4,500 to $7,500 & not tailored for musical instrument's. Our Price- $117.00 for Ultra-Flex. Currently, we are offering Free Priority shipping in the United States. Due to the sanitary nature of this item worn on your finger all sales are final, no returns. Now available in Six colors & a designer option: Flesh Tone, Gloss Yellow, Electric Blue, Electric Blue with Silver Metallic Flash Stripes, Caribbean Aqua, Brushed Silver, Snowblind White. Confirm your choice of color at Checkout. As you get use to your FT-1 it will adapt to you. Give it some time to get use to your playing styles. The reward will be yours & become second nature. Important: once you discover our FT-1 works great we strongly recommend you invest in another as a spare in case you damage your original or it needs to be refurbished or replaced. Customer's who do not invest in spare FT-1 Finger Protector's sometimes panic until we can get them a second or 3rd FT-1. Even though we ship fast if outside the United States it could take 5 weeks to get to you. Galaxy Helping The World, One Musician At A Time Play Their Instrument In Comfort.
Click to Enlarge Images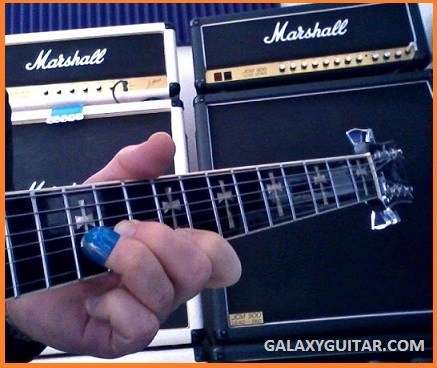 Shown in our Gloss Electric Blue Color.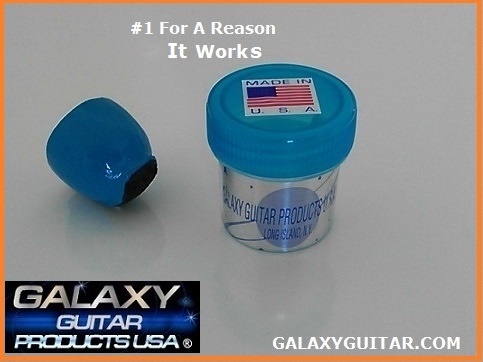 Larger 7/8's Custom Order.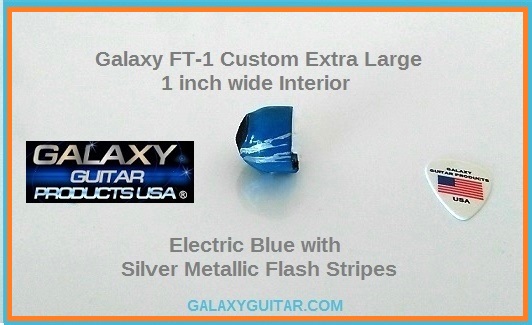 Go with Flash While Protecting Your Finger.
Electric Blue w / Silver Metallic Flash Stripes.
Hand Painted, each pattern is unique.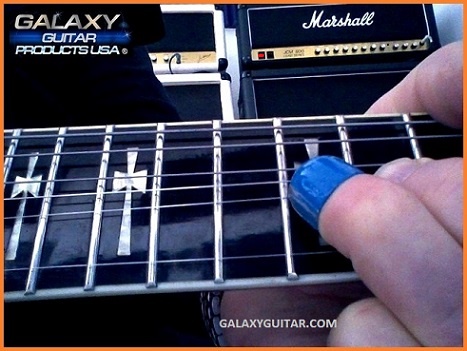 Precise String Bending is Possible w / Your Injury.
Order Here:
Click to Enlarge Images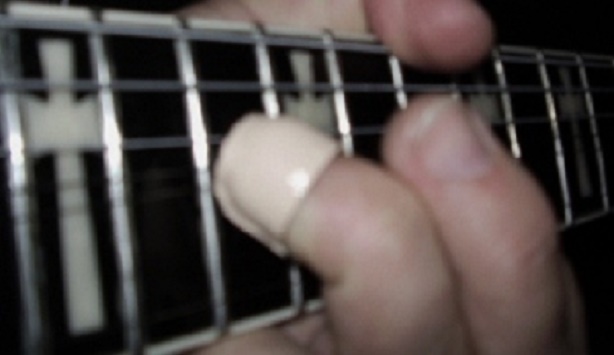 Shown In Flesh Tone.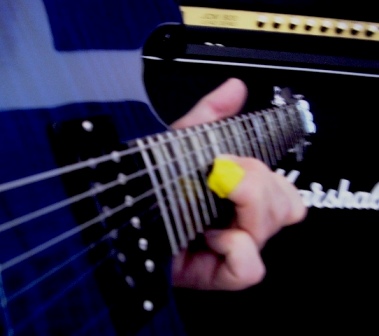 Shown in Gloss Yellow.
If you lost your finger at the Knuckle Joint, Now There Is An Affordable Option.
After Many Requests, Introducing The New Custom Made Galaxy FT-2" Knuckle Joint Extender.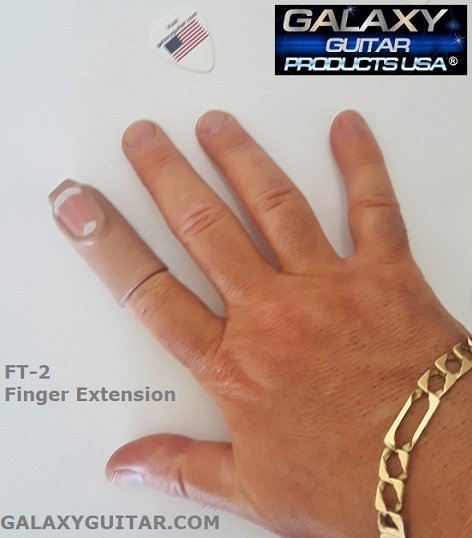 Custom made to order for Injured Musicians.
Tailored for Musical Instrument Playing.
Firmer then softer silicone fingers.
More Down-Force Pressure.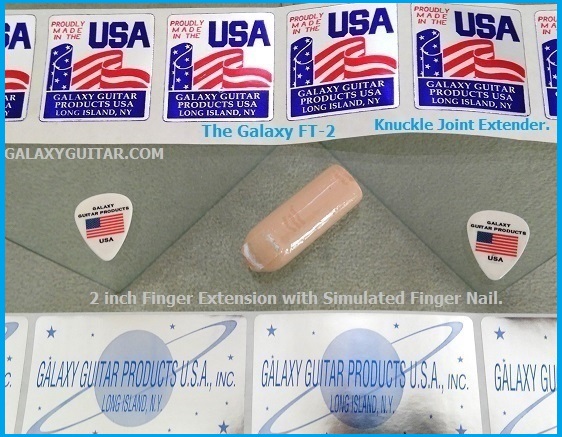 Galaxy FT-2 With Optional Simulated Finger Nail.
Thousands less then a Prosthetic. Includes
bottom exterior grip. Available sizes
1/2", 5/8's, 3/4", 7/8's, 1"
interior circumferences.
---
---
READ
GALAXY FT-1 CUSTOMER TESTIMONIALS & COMMENTS IN THEIR OWN WORDS.
Used with Customer Permission.
---
2015: I'm really impressed with this product after an injury like mine. Loosing part of two of my fingers is not a good thing so playing the guitar again is like a rebirth for me! The adaptation process is fast. The Galaxy FT-1 Ultra Flex fits perfectly but you have to be patient to get used to them, but of course, it is the solution. Thank's to the Galaxy staff for their attention in every moment I needed. Greetings from Spain!
Raúl Buil Nasarre. Professional Guitarist.
---
This is a re-order. I am currently on my second FT-1 and it is still in good shape, but I want to have a spare on hand.
Thanks for the great product. It allows me to play. Without it I would not be able to. Please send a flesh tone color.
Steve Hartley. Westminster, California.
---
I was repairing a piece of electronic gear, trying to remove some epoxy from a circuit board, the razor blade slipped; slicing into my fingertip, and out the other side through my fingernail. It took more than a month to heal back together. I've been playing the guitar for over ten years. After my finger healed back together I found it hard to fret with that finger. For the first time in ten years, I could no longer play the guitar, this was devastating. I've been playing in a band for two years & were in the middle of tracking my guitar parts for our first record. I was literally losing sleep wondering if playing guitar was gone forever. I discovered the Galaxy FT-1 on line. I was a bit skeptical, but willing to try anything to be able to play the guitar again. I started to fret and strum, although it felt quite foreign, I realized instantly that there was no pain. I felt this certainly was a step in the right direction. Now the FT-1 is truly an extension of my own finger, minus the pain. I can fret, bend notes, sweep arpeggios just like before. Thank you so much Galaxy for giving me my music career back.
Grant Ostergard. Dallas, Texas.
---
I was playing guitar for about one year when I accidentally had the tips of my left middle and ring fingers chopped off in a lawn mower accident. Even though I was not an accomplished player, I was excited and pleased with the progress I was making with the guitar. I had a skin graft done. To this day, the pain continues to exist especially in the winter. The pain can persist up to an hour. Obviously, I was devastated that I could not play guitar anymore. I was determined to find a way to play again. I put band aids on my fingers with the hope that the cushion would protect my injury and soften the pain. I realized this would not work. There is no plastic surgery for this injury and I was hesitating to take medication. My injured fingers could not grip the strings. I have been an avid Black Sabbath fan and knew that Tony Iommi had a serious injury to the same fingers that I did. Tony is left handed, he injured two of his fret fingers. My Google search led me to Galaxy Guitar Products. I saw that there was an affordable product available, I eagerly purchased two of the FT-1's for myself. I had a difficult time moving my two fingers around. My injured fingers were always bumping into one another. After a month, I became very use to the FT-1's more and more. Now, the feeling I have with the FT-1s is very natural. I feel blessed that I have another opportunity to play again. Without this product I would not be able to play the guitar period. Thanks to everyone at Galaxy Guitar Products!
Joe Kramer. Grandville, Michigan.
---
Hey Galaxy! Thanks for the finger extension (protector). It works great! Already getting used to a normal length middle finger.
Vaughn Balchunas. Bellingham, Washington.
---
Galaxy, Thanks! Works great, I'm back in the saddle again!
Edward J Hines. Edward Hines Music, Wendell, Massachusetts.

---
I want to thank you Galaxy for the FT-1 Protector. With 4 sold out 2014 New Years shows and a badly cut finger the outlook was bleak. The Galaxy FT-1 worked great and the shows went on. Was I at 100%? No but I could play enough not to have cancelled. The 10,000 people over 4 days thank you as well. I'd love to write a testimonial for your site if I could, Thanks Again.
Rob Eaton. Dark Star Orchestra.
---
When I was 19, in 1979, I worked digging holes for swimming pools with a large Caterpillar shovel dozer. After a hot day of work and a few beers, while trying to trailer the beast, my left index finger got pinched between a track and a large chain link. Needless to say, the end of my finger was crushed and left very sensitive. When I was 33 I had my right shoulder "Fused" into the socket after smashing it to smithereens. I became a lawyer at age 50. As a reward to myself, I decided to take up guitar this year at 53. I bought a Fender Telecaster Thinline semi-hollow body for myself at Christmas. I was concerned about both my shoulder and my finger. The shoulder is not a problem, but the finger is so sensitive I can't play, or so I thought. Along comes a God send, the Galaxy FT-1 Finger Protector. This thing is awesome! It fits perfectly on my finger and the engineering is so precise and well done that I can actually play my guitar-without pain! Awesome!!
Thomas Doherty Doyle, Esq. Chelmsford, Maine.


---
On January 13, 2014 in a freak accident while hitching up our travel trailer, I amputated my left index finger just above the base of my fingernail. I play banjo, guitar and mandolin, so needless to say I was totally distraught fearing that I would never be able to play again. I began researching finger prosthetic's on the internet and found Galaxy Guitars and the FT-1 finger protector. After reading all the testimonials, I was concerned that they were all written by men and wondered if it would work for female sized fingers as well. I called and spoke with a tech about the FT-1. He was very supportive and helpful and spent so much time talking with me and answering all my questions. I immediately ordered one even though I knew it would be quite a while before my finger was healed enough to try it. Even though my finger is still tender, I could wait no longer. I put it on for the first time on March 10th and after only 3 evenings of 20 minutes sessions, I am able to hit all my old licks on the banjo and with no pain! I have also worked a little with the guitar and mandolin with equal success. I am so pleased after only 3 sessions with the FT-1 that I have ordered a second one. My husband and I play bluegrass professionally, but we play out of passion for the music. While I could have lived with the thought of never "performing" again, the thought of never playing again was devastating. Now I know that it will be music as usual! THANK YOU GALAXY GUITARS FOR THE FT-1!!!
Sue Davis. Macon, Georgia.

---
Hello, I ordered the Galaxy FT-1 Finger Protector a couple of weeks ago. When I first opened the package, it did not fit my finger which was quite the bummer since I had not been able to play my guitar in over a year after loosing 1/2 inch of my ring finger in an accident at work. After reading the instructions, I removed the leather grip from inside the tip. After pushing to get it on my finger even a little, I proceeded to try and play my guitar. What happened next brought a smile to my face that has not left yet. I could play my guitar!!!! After a few weeks of practicing, I have regained most of my playing skills. Now I am going to record some of the 100 plus songs that I have written over the last 25 years! I am going to give a serious go at becoming a country songwriter. You never know how much you take something for granted until you lose it. I will not take music for granted ever again!!! Thank You Galaxy from the bottom of my heart for giving me another chance to play again!!!
Greg White. Attleboro, Massachusetts.
---
---
Order Here:

---
---
Add a Galaxy Guitar Products T-Shirt at Checkout while they still are in stock. Made In The USA.
Some sizes already have sold out. High Quality Gildan tag-free Shirt. Full color animated design, form fitted.
Stay-Dry Technology. Attract attention wherever you go. Look great while letting the world know you're a Guitarist.
Color: Black, Sizes: Medium & Large. Small & X-Large sold out. Get Yours before they are gone. Free Shipping in the USA!
Order Here:
Click to Enlarge Image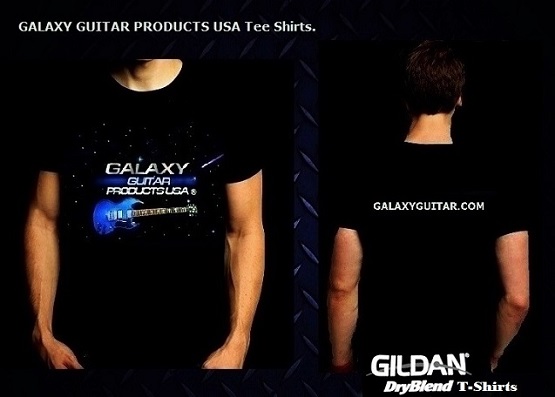 ---
The Galaxy FT-1 & FT-2 are provided to help Musicians. Galaxy Guitar Products USA reserves the right to decline an order on these item's. All Orders are verified via email to determine if the Galaxy FT-1 or FT-2 are a proper fit for you. Due to the Sanitary nature of these product's worn on the finger, there are no returns. Galaxy does not choose your size, we are not responsible for a mis-measured finger. The Galaxy FT-1 & FT-2 are not a medical device, they are music accessories. Galaxy ships our FT-1 & FT-2 worldwide via United States Postal Service Priority. International shipments must clear customs in your Country. There may be Customs charges not covered by Galaxy. For more information visit our policies page. Sales questions, click & fill out our Contact Us form. Business Inquiries, email us: admin@galaxyguitar.com International Tel:702-363-5465.