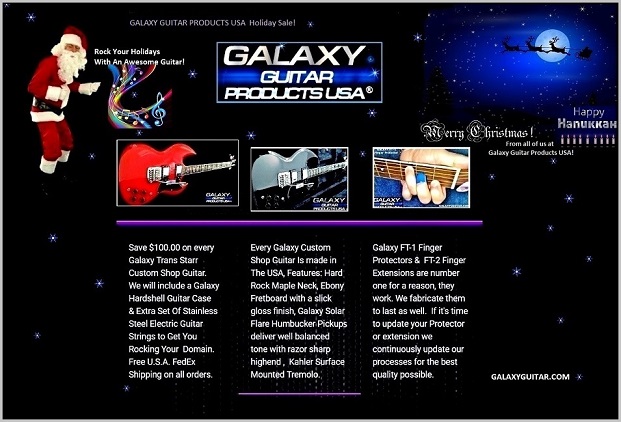 Click To Visit Galaxy Custom Guitars
---
ALL GALAXY TRANS STARR F-24 GUITARS ARE ON SALE!
Explore Our Website Find Your Guitar
Rock The World!
---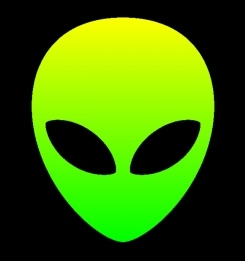 GALAXY'S DYNAMIC DUO
Our Hottest Selling Electric Guitars Deliver The Goods.
High Quality Custom Trans Starr F-24 Guitars
Click to Enlarge Image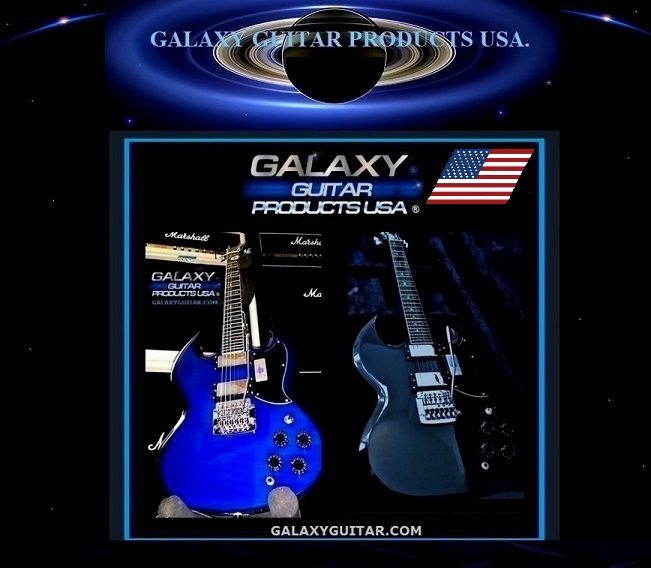 We Ship Worldwide 6 Days A Week!
Free FedEx USA Shipping!
Our Customers Receive
VIP Gold Service.
---

Made In The USA
Click to Enlarge Images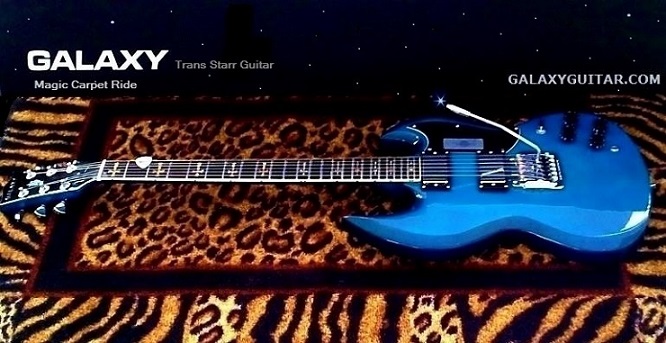 In Stock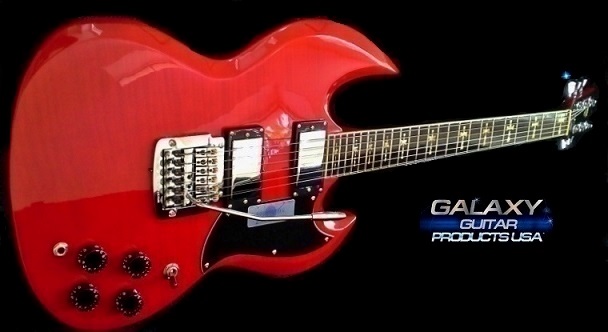 In Stock
---
---
GALAXY'S Fantastic Pre-Owned Guitars & Professional Finger Protectors. Click on More Guitars or FT-1 Finger Protector.
Add a Galaxy Guitar Products T-Shirt to your order. High Quality tag-free Gildan Shirt. Full color animated design, form fitted. Stay-Dry Technology. Attract attention wherever you go. Look great & let the world know you're a Guitarist. Color: Black, Sizes: Medium & Large. Small & X-Large already sold out. Get Yours before they are gone. Free USA Shipping!
Ships Free Internationally with any additional order. To order your T-shirt click on any Chrome "Buy Me" Tab on our site.
Click to Enlarge Images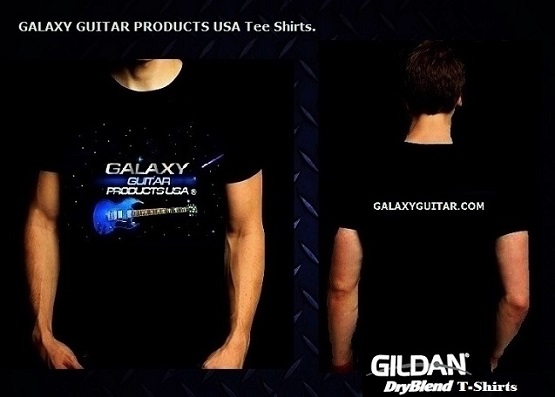 In Stock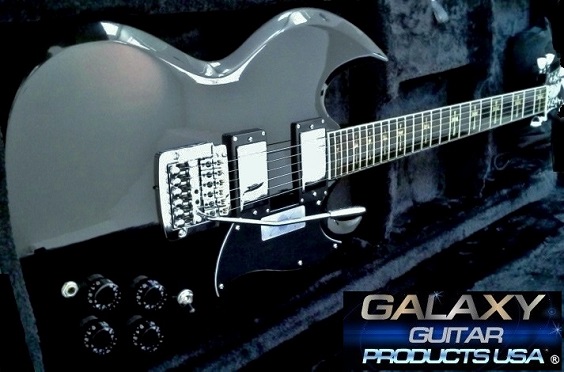 In Stock
Click To Visit Galaxy Custom Guitars
Checkout Trans Starr Video

---
---
We Ship Worldwide 7 Days A Week.

Click to Enlarge Images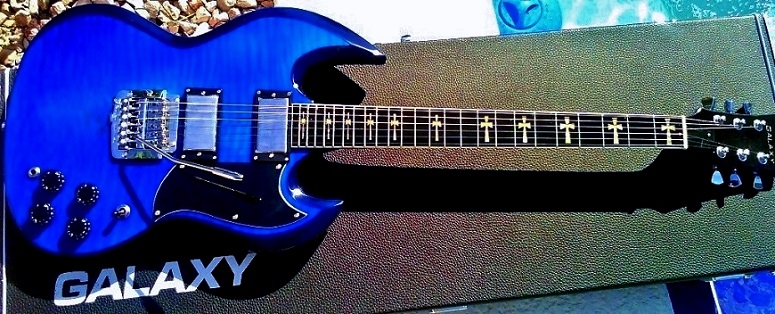 In Stock
THE ULTIMATE SG.
Galaxy's Trans Starr F-24 Custom Shop Guitar.
Features Our Solar Flare Alnico Humbucker Pickups.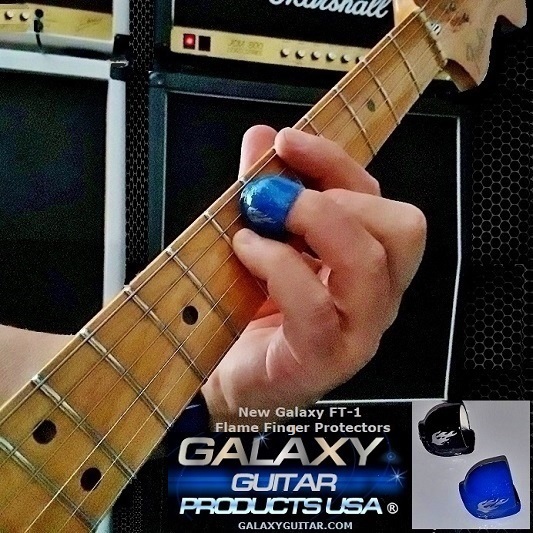 In Stock
The Galaxy FT-1 Finger Protector. Helping injured Musicians on any Instrument. Check out our New Galaxy FT-1 XL & FT-2.
We Ship Everywhere On Planet Earth.
---
---
For 23 years Galaxy Guitar Products USA has provided professional musicians with unique products. We are a company run by Musicians serving Musicians. The Galaxy Trans Starr F-24 Metal Warrior Guitar is a state of the art new design in guitar manufacturing. 2 years in development and designing our own pickup's, it provides serious guitarist's a custom shop guitar without the high expense or long wait for a custom build. These Guitar's feature many custom option's as standard equipment. Trans Starr F-24 Guitars Rock With Power delivering crushing power chords & blazing solo's. High Gloss Ebony Fretboards, Galaxy Solar Flare Alnico Wax Potted Humbucker Pickup's, Kahler Surface Mounted Tremolo, 11 Oyster Shell Cross fretboard inlay's, Abalone Galaxy Name & Head Stock Torch, Galaxy Deluxe Non Slip Chrome Tuning keys work with the tremolo, a locking nut is not needed, speed knobs and pot's. Hard Rock Maple Neck, Basswood body known for it's warm sound, Flamed Maple tops available on certain models.
Click To Visit
Guitars
Click to Enlarge Images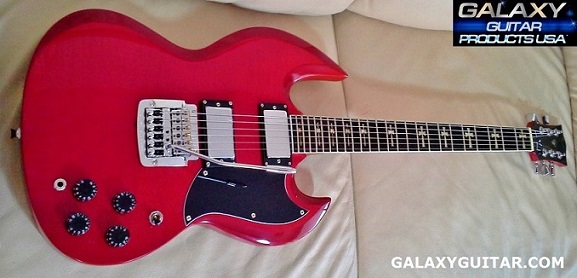 In Stock

In Stock
---
---
The Patented Galaxy FT-1™ Finger Protector
Provided exclusively for Guitarist's, Bass Player's,
Violinist's, Stringed Harp Player's that have a finger injury.
For specific information on this item visit our Galaxy FT-1 site.
Click to Enlarge Images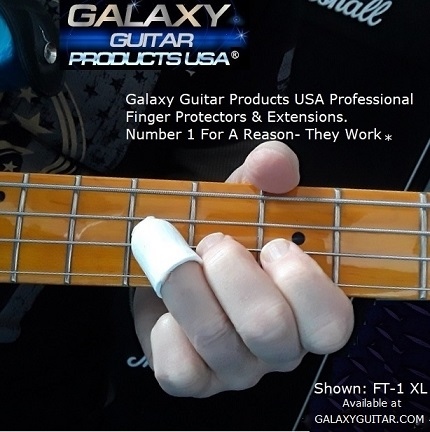 Custom Order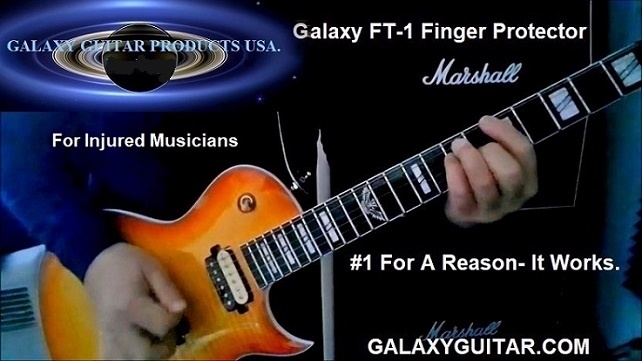 In Stock
Click To Visit
---
---
Click to Enlarge Images
Check Out Galaxy Pre Owned Guitars.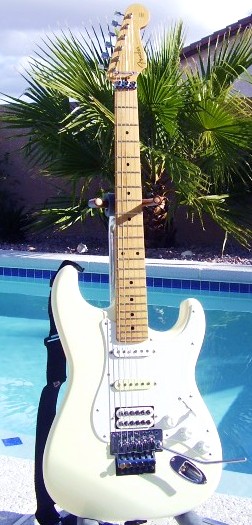 Just Sold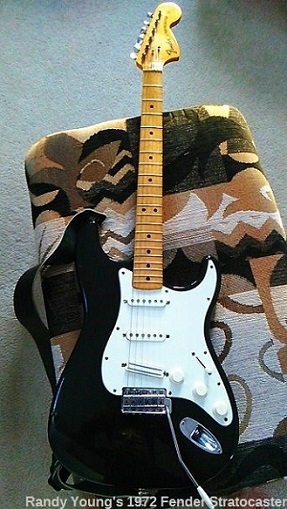 Not Available
Click To Visit Custom Shop
Click to Enlarge Images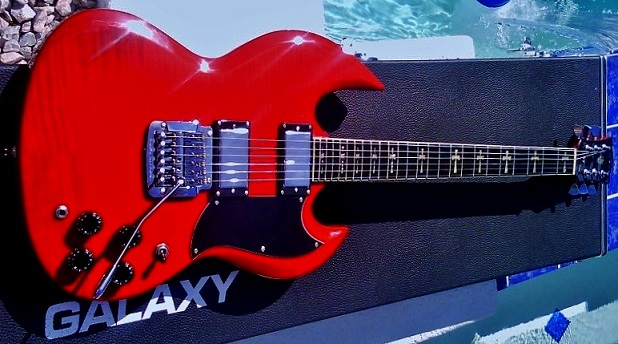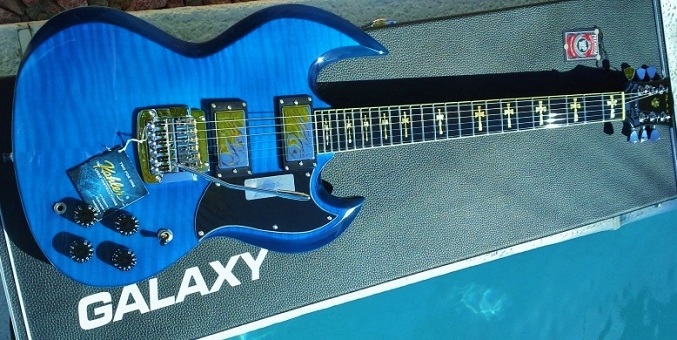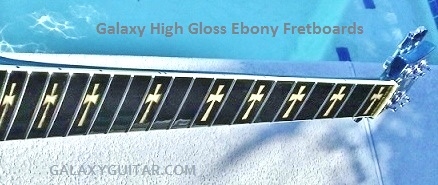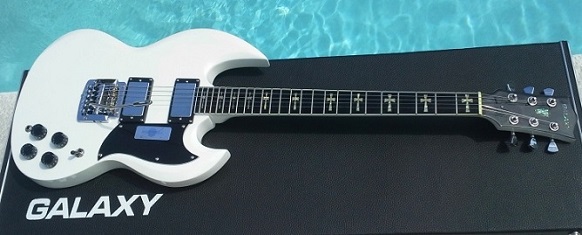 ---
---
Join Our "Members Only" Email List Below!
Get $100.00 $aving$ $pecial$.
Right Now: Free Shipping in the USA.
Colors Available:
High Gloss Midnight Black, High Gloss Snowblind White,
High Gloss Trans Blue,Trans Blue / Flamed Maple Wood Top,
High Gloss Trans Cherry with Flamed Maple Wood Top.
For more information visit our Trans Starr Guitar Page.
---
---
Galaxy ships worldwide 6 Days a week. We ship our Guitars Domestically via FedEx 3 Day Air Express. Galaxy FT-1 Finger Protectors are shipped via FedEx as well. International orders must clear Customs in your country. FedEx helps clear your order. There maybe Customs charges that are not covered by Galaxy. For shipping details visit our Policies Page. If you have questions or Business Inquiries, Technical Product Questions click on the Contact Us Tab. For exisitng Customer support email our Client Service's Help Desk. Our International Tel:702-363-5465. Receive Members Only Discounts- Join our mailing list.