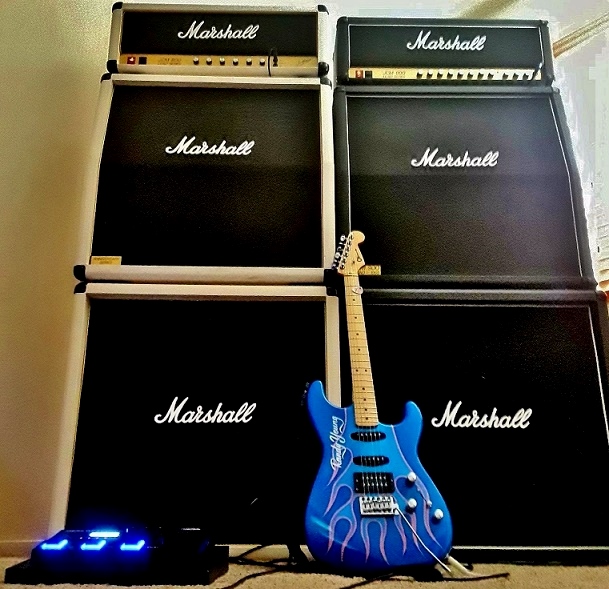 ---
---
Galaxy Guitar Products USA was Founded in 1996 in Oceanside Long Island New York as an enthusiastic adventure of Hard Rock Guitarist Randy Young. For 27 years Galaxy Guitar Products USA has been providing unique guitars & accessories worldwide. In 1996 Randy first created the Galaxy Guitar Rack System ( Shown Below). A professional Rack Stand that hold's 7 guitar's or basses providing a protective perimeter for instruments then packs-up into a Flight Case. Randy's vision was to have a guitar company that specialized in a niche market for Hard Rock Guitarists. Now players from all styles of music purchase Guitars from Galaxy.

The vision started in 1975, when a teen-aged Randy Young won best young guitarist in Florida through a contest run by 711 stores and Busch Gardens. A year later Randy met Black Sabbath Guitarist Tony Iommi back stage after a sound check at The West Palm Beach Auditorium during Black Sabbath's Sabotage tour. The next year Tony invited Randy down to Criteria Studios in Miami Florida where Black Sabbath were recording their new album Technical Ecstasy. Randy became impressed that Tony made his own finger protectors to play guitar overcoming a serious 2 finger injury. Tony's fast trills, unique virbrato, Heavy power chords & the time spent in the studio strongly interested Randy to make his own finger protectors. He was influenced by Tony Iommi's heavy left hand percussive pick attack & fast right hand hammer-on's.

Then it happened- One late Miami summer night back at the Thunderbird Hotel on the top floor with the sound of the ocean in the background & the rest of Black Sabbath hanging out in the room Tony showed Randy the Finger Protectors he made. Randy was amazed. In the months to follow Randy tried to make his own finger protector even writing to companies if they could make him one. This was decades before the internet. Waiting almost 2 months for replies the letters arrived in the mail "Sorry we do not make that kind of thimble." Completely driven in 1976 Randy continued to make his own finger protectors. Moving back to New York & after many trial samples Randy started to play with one on his finger on stage. Randy kept his homemade finger protectors in a small blue plastic snap-box with a pouch inside it. His Guitar Tech would keep watch over it at shows.

Randy played with band's Windhill East, Squadran, Young Thunder, Shockwave with serveral CD's available. Facebook sample Link is below. Randy was then asked to audition for Kiss & Ozzy Osbourne. Randy did not want to sell his finger protectors he was making them for his own use. Once the internet hit Musicians of all instruments with injured fingers saw photos & YouTube videos of Randy using a protector. They contacted him requesting if he could make them one. Requests increased from around the world weekly with photos sent in of injured fingers. With many requests Randy produced some but only sent them to Musicians with finger injuries. Today Musicians that truly experienced a severe finger injury search, find & depend on these unique finger protectors to help them play their instruments again. 30 years later Randy searched for United States Manufacturers that could create a formula to his specifications that would be strong yet flexible & last a life time. After many samples Randy approved one formula. Now all Galaxy Protectors & Finger Extensions are made from it.

As fate would have it: The Universe had a plan for one Driven Teenager- Randy Young to create his finger protectors that would ultimately lead to helping many people Worldwide in the future who endured the trama & pain of a finger accident helping hundreds overcome their finger injuries to make music again & get back to playing their instruments they had given up for years because their fingers were injured.
Galaxy Guitar Products USA now manufactures the Galaxy FT-1, FT-1 XL. FT-2 Finger Protectors & Extensions™.
Many Doctors, Prosthetic companies contact Galaxy Guitar Products to order Galaxy Protectors & Extensions to help their musician patients who have suffered a severe finger injury or loss of the finger tip. What was a musical & technical obsession for a teenaged Randy Young became a mission for Galaxy Guitars USA to help musician's worldwide with injured fingers. Bass Players, Violinists, Cellist, Keyboardists, Horn & Uke players even Doctors with finger injuries all discovered the Galaxy finger protectors that helps them get back to playing & excelling on their musical journey. The populatrity of Miracle Finger Protectors has exploded to Non Musicans, Wounded Warrior Veterans, Children allowing them to regain the use of their fingers for typing, working & playing an instrument.
Galaxy Guitar Products USA also develops unique Guitar's.
The Galaxy F-24 Guitar Model takes an older style shape adding a more aggressive look resulting in more sustain with a Heavier Body, Deeper Body Cutaways creating easy access to higher frets. Galaxy Solar Flare Humbucker wax potted pickup's deliver crushing power chord's & blazing guitar solo's with a Razor Sharp High-End Sound capturing a Stylistic Percussive Pick Attack that Randy so much loved from Tony Iommi's sound. Another concept that Tony Iommi had on his early SG Guitars were high gloss fret-boards. All Galaxy Guitars have them as well. Galaxy Gloss High Quality Ebony Wood fret-board's reduce friction substantially creating smooth vibrato & lightning fast soloing. As Galaxy became popular for discriminating Guitarists worldwide the company was becoming the number one source for Professional Musical Finger Protectors & Finger Extensions. Galaxy has pre-owned selection of Guitars a collectors dream with unique hard to find Guitars just a click away. Explore our website, find your Guitar Treasure, Rock The World! Galaxy Guitar Products USA- 27 Years Of Excellence Serving Musicians Worldwide. Business Inquiries Always Welcome.
Click to Enlarge Images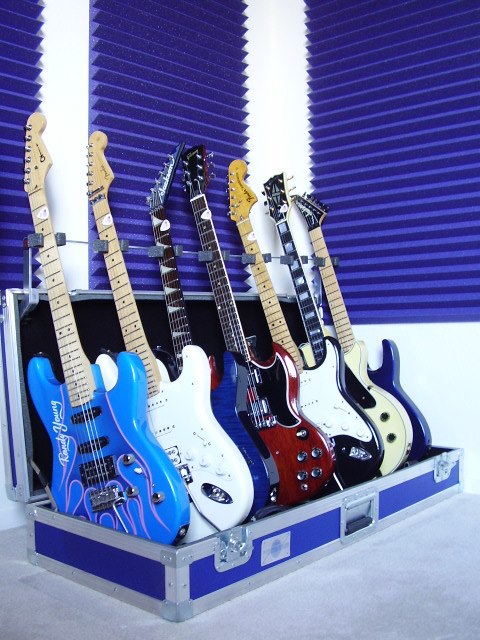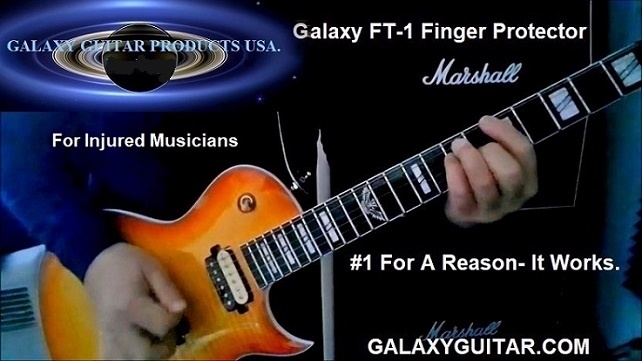 Galaxy Guitar Rack System & FT-1 Guitar Finger Protectors™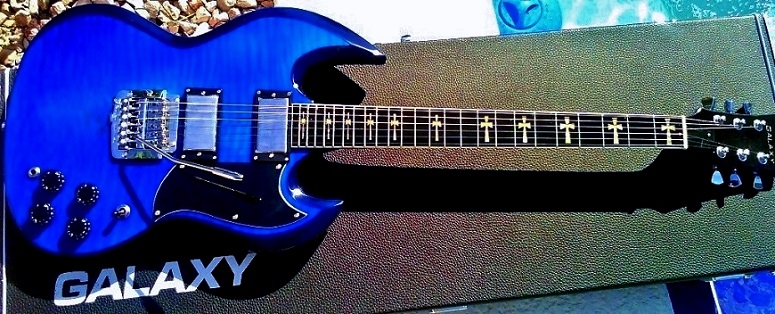 Galaxy USA Custom F-24 Guitars™
---
Read an interview with Galaxy Guitar Products USA Founder
Guitarist Randy Young
Click to Enlarge Image

---
Sample Tracks: Randy Young Playing In Some Of His Bands.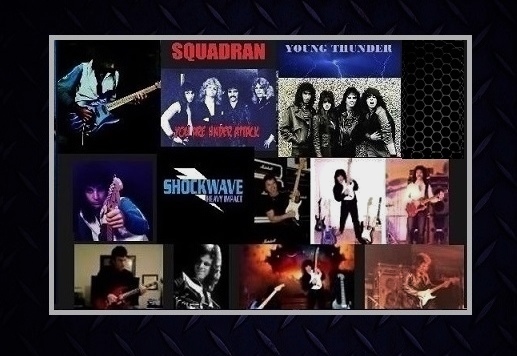 ---
Galaxy customers know we take care of them with our great customer service & Global Tracking Updates. When you place an order with Galaxy we track your shipment 24 hours a day. We meet the demands of serious players. If you're playing a club in your home town or you're on the road. Galaxy's professional Global Customer Service is there with our Commitment To Excellence. Working With FedEx & keeping you informed to get your order to you as soon as possible.
---
---

All Galaxy Guitar's come with a 90 day warranty.
10 years tech support, 10 year's limited parts replacement.
---
---
Galaxy ships worldwide. We ship our custom guitars 2nd day air in the USA via FedEx Air Express. Galaxy FT-1 & FT-2 Finger Protectors are shipped FedEx as well. International shipments must clear customs in your country. Custom charges that may apply are not covered by Galaxy Guitar Products. If you have questions please consult with us when ordering, we are always here to help you. All orders are verified via email. For Business Inquiries, Sales or Technical Product Questions fill out our Contact Us form. For exisitng Customers email our Client Service's Help Desk. Our International Tel:702-399-4678.