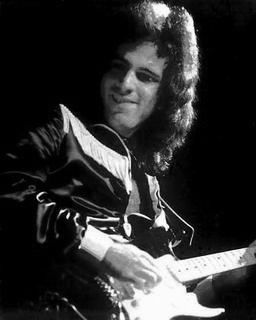 By Cynthia Menendez
Rock Edge Magazine

My interview with Randy took place at Mandalay Bay
Hotel & Resort in Las Vegas NV USA. August 27, 2007.

CM: Randy when did you start playing guitar & who were your inspirations early on?
RY: When I was about 4 years old my older brothers Steve & Guy used to bring home record albums. Some of those were the Beatles. When I saw George Harrison it clicked something in my mind, that was it. I was going to be a lead guitarist. I was hooked on the Beatles from the first time I heard the album "Meet the Beatles". I loved the way they sounded & George Harrison looked so cool, the Beatle boots & everything ...(Laughs). I got my 1st guitar around age 7. A modells tear drop special. I still have it somewhere.

CM: The Beatles music is very different from what you play today. What got you into hard rock guitar playing?
RY: I was always into George Harrison's heavy step down notes on some of their songs like Help. I found Tony Iommi from Black Sabbath's playing a continuation of that English step down style. I felt Harrison & Iommi had a very similar English style that American guitarist did not have at that time. I was attracted to it. When Jimi Hendrix came on the scene I was in middle school. I used to hitch rides or ride my bicycle 15 miles just to go stare at a Fender Stratocaster guitar at Sam Ash Music on Long Island New York.

CM: So jimi Hendrix was an influence in your guitar playing?
RY: Yes, a very big influence. Something spiritual happened when I saw that upside down Fender Stratocaster & Jimi's fluid style of playing & singing & his use of the tremolo bar.
My Dad owned movie theatres, he used to have live concerts & play movies like Woodstock,
Led Zeppelin. So that is where I got to see Jimi Hendrix & study him.

CM: What are some of your favorite Jimi Hendrix songs & albums?
RY: Hendrix in the West, Jimi played Johnny B. Good on that album fantastic. I loved Electric Lady Land, Jimi Hendrix Experience, the sound Jimi got at Woodstock playing the Star-Spangled Banner. I also learned from Jimi Hendrix Live At Monterey pops festival. That album moved me, I used to practice that album along with George Harrisons All Things Must Past Album everyday after school.

CM: It seems that you were listening to music at opposite ends of the Spectrum then.
George Harrison, Jimi Hendrix to Black Sabbath.
RY: Your right, I was. It made my guitar playing well rounded in chord progressions & developed my solo's. Even now I listen to 60's, 70's, 80's music. I really like some of the guitarists & bass players in today's smooth Jazz as well. Some of the grooves they get into are great.

CM: What other guitarists influenced your guitar style?
RY: Ritchie Blackmore from Deep Purple. He was moody, I liked that. He also played Fender Stratocasters with maple fingerboards back then, I liked that as well. Stratocaster guitars are a challenge to play as opposed to a Gibson guitar which has a nice flat neck & fat sound. Stratocasters you have to fight them. They bring out a better guitarist in you. Look at all the guitar greats, George Harrison, Eric Clapton, Jimi Hendrix, Ritchie Blackmore, Edward Vanhalen, Yngwie Malmsteen. They all played that strat style guitar.

CM: What is it about these guitarists you found interesting?
RY: I liked Ritchie Blackmore's pick attack. He really digs in. Ritchie plays a bit like Albert Lee who is just a phenomenal country guitarist. I also listen to Yngwie Malmsteen, he is a true composer, a modern day Mozart on guitar. I like Tom Scholz, he perfected the recording of a heavy guitar sound, compressed it into a commercial package. He is also a great song writer & perfectionist at producing. I listen to Boston all the time. Tony Iommi was a big influence on me. His heavy handed pick attack style, his sound & guitar solos not to mention his old 1965 Gibson SG Special.
I love that guitars sound. That SG was gifted to the Hard Rock. I hope we hear that old Gibson SG again on new songs.

CM: What are your favorite Black Sabbath songs & albums?
RY: I Love all the Black Sabbath songs like Symptom of the Universe, Into the void, Shockwave, Heaven & Hell. What a guitar sound! Tony Iommi always had a different guitar sound on every Black Sabbath album. My favorite albums are Master of Reality, Volume 4, Sabotage, Heaven & Hell. Tony plays with plastic tips, creating his unique hammer on's.
CM: Your company Galaxy Guitar Products sell's a similar product.
RY: Yes as stated on galaxyguitar.com when I met Tony, he invited me down to the studio where Black Sabbath was recording their album. That month Tony showed me the tips he made. I was amazed, it left a big impact on me. I just started to make my own, hours filing tip's into a shape. Now Galaxy Guitar Products sells them world wide to help guitarist's with injured finger tips. I play with them as well most of the time. I like the quick trills & vibrato they allow me to do, like a machine.


CM: Were your parents into your music?
RY: Yes, my Mom plays those wrap around organs & was instrumental in my music. She arranged my first guitar lessons at home for me. My Dad is awesome he was supportive all the way & proud when I play shows. My Dad drove me to get my first Black & white Fender Stratocaster.
That was a magical time.

CM: Let's talk about your musical equipment. Your tech says you like maple fingerboards with as much glossy, slippery Lacquer on them as you can get.
RY: That's right I love that feel of playing on glass. When Eddie Van Halen came out he had the necks sanded & then every guitar Manufacturer was producing guitars without any gloss finishes on the fingerboards. It really made me mad because I played many nice guitars but they had what felt like dirty, dried out guitar necks & fingerboards. I was buying Fender, Jackson, Charvel guitars & flying the necks around the United States to have them professionally gloss finished.
Now guitar manufactures Like Galaxy's Starfire guitars are making these guitars just the way I like them, Slippery when wet....(Laughs).

CM: What do you think of Edward Van Halen?
RY: He is awesome, as you have heard many times, he changed the style of guitar playing.
Not only is he a great guitarist & song writer, he has a most unusual rapid picking technique.
My style is much like his, Tony Iommi, Ritchie Blackmore,Yngwie Malmsteen & George Lynch rolled up into one package...(Laughs).


CM: It seems you like the Strat body style, I see that your Jackson & Charvel guitars have that same Strat theme. No flying V's or weird guitar shapes.
RY: That's right, I like the shape & feel of Strats, Jackson, Charvels, which are similar.
I also like my 1964 Gibson SG. I have a Gibson White Les Paul custom. I use it sometimes in the studio, great for chords. I sanded the square corner down a bit where the guitar meets the neck because it was digging into my hand.

CM: When we were at your studio I noticed even your Gibson SG has a glossy finish over the rosewood fingerboard.
RY: I got that from Tony Iommi, I was in the studio when Black Sabbath was recording Technical Ecstasy in Miami Florida & got many tips from Tony during that month. That was the most unreal experience to see Black Sabbath record an album. The last night, they had a listening party.
We all sat in this nice, huge empty studio as the album was played back completely.
Just Awesome. Tony was playing great fast trills on the song "You Won't Change me" He sounded like Brian May of Queen on that one. I asked him to throw down some lightning fast trills on both solos & he did.
I have many photos of us in the studio, it was awesome!

CM: Marshall seems to be the only amplifiers you use. Have you ever tried other amps?
RY: Yes but they have way to many knobs & it confuses me...(Laughs). I like Marshalls quick response & English tone. I use Marshall JCM 800 & 900 series amplifiers exclusively.
I got them when I auditioned for Ozzy Osbourne & never looked back. I used to use Univox, everyone asked about them because they sounded great. I just picked up a small Marshall MG Series 15 DFX practice amp. The amp is crazy, it sounds like a Marshall stack. Its only 15 watts!

CM: What are your amp settings?
RY: I am unique in that I set the bass to about 8, Midrange at about 5, Treble about 4. I dont like a trebly sound, I like a fat bassy sound with just enough highs to squeal harmonics. The Master volume on my white Marshall 800 series 100 watt Monster is set to 3, you cant hear yourself talk, the gain is set to about 4. My Black Marshall 900 series 50 watt has a warmer sound & blends my stereo effects rack input with the 100 watt perfectly. The Master Volume is set to 4, Gain is set to 4.
I like the sound Tony Iommi got through his Laney amplifiers at the California jam.
Check it out on you tube. What a sound.

CM: How did you hook up with Ozzy Osbourne?
RY: Remember I was in the studio with Black Sabbath & hanging out with Tony, Bill Ward, Ozzy & Geezer Bulter on the beach & at the Thunderbird hotel in Miami. After that album was finished, they toured. Tony got me back stage at Madison Square Garden where they headlined over Aerosmith & Ted Nugent. Then again during their last Sabbath "Never Say Die" tour with Ozzy. After that tour Ozzy called me & asked for a tape of my guitar playing. He called again after receiving my tape & asked if I would audition for his new band. Sharon Osbourne made the arrangements for Ozzy to fly to New York. After the audition Ozzy's Dad was very sick at that time. Ozzy flew back to England. That was the end of it. Months later Ozzy returned to Los Angeles & got Randy Rhoads.


CM: Wow a major let down for you.
RY: Randy was a great guitarist. I practice his music all the time.

CM: You recorded an album with Ozzy Osbournes Ex producer Max Norman is that true?
RY: Yes, back in the 80's after I played with Ozzy in NYC, Polygram records was looking for an Yngwie Malmsteen replacement, we sounded a bit like Yngwie, Sabbath & Deep Purple.

CM: What happened to that album?
RY: The band was called "Young Thunder" just as we finished the demo that was recorded with Max Norman up at Bearsville studios in up state New York, Our manager at the time calls us to say he just signed Deep Purple to a new contract for a new album & reunion tour & the record company is putting us on a shelf until a later time.

CM: That must have been another huge let down.
RY: It really was, we were so close to living our dream. Here we are in a nice studio with the Producer who recorded Ozzy Osbournes Blizzard of Oz & Diary Of A Madman albums. That was way cool. However Life is a journey, you have to roll with the punches & look to the future because thats whats coming your way.

CM: You also played with Kiss in the early 80's?
RY: Yes, My manager at Polygram records rings me up & ask's "How would you like to play with Kiss?" He sent them my photo & a tape of my playing. Gene Simmons asked me to fly out to SIR studios in Los Angeles to audition. We really sounded heavy, drummer Eric Carr was so nice. Anyway Paul Stanley said I played like Eddie Van Halen & they went with Vinnie Vincent.

CM: You seem to be a private person, you did not get hooked on drugs or drinking. You do not seem to live that stereo type "Rock Star" life style. How do you manage to keep it together?
RY: I have 3 children, they are the most important thing to me.

CM: How did you choose the name ShockWave for the band?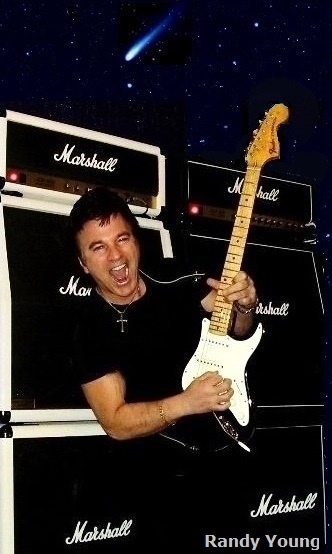 I love the song "ShockWave" from Black Sabbaths Never Say Die Album. The lyrics & the technical stainless steel sound Tony Iommi got from his Black John Birch SG, I just love it! No other guitar on the planet has that sound. I am speaking with John Birch Guitars in England about making me a Cherry color SG guitar. I would like to find a Gibson custom shop Cherry color Tony Iommi model. I spoke with Gibson, they do not make them anymore. The John Birch has that English sound where the new Gibson does not.

CM: What is happening with Shockwave's new CD?
RY: Right now I continue to audition musicians for the new CD. It is so hard to find the right people. This new one is very special to me.
I have the name & music ready to go. It will be produced perfect.

CM: ShockWave's Heavy Impact continues to sell strong.
RY: It really is great to have large sales in the USA, Europe & Japan. To know people on the other side of the world are enjoying my music is really a great feeling.

CM: We appreciate you doing this interview. I love to visit Las Vegas, this was great! You continue to be Hard Rock's best kept secret as great rock guitarists go.
RY: Thank you for your kind words. This was fun.


Cynthia Menendez
Rock Edge Magazine
October 2007 issue.
Used by permission. All rights reserved Copyright 2007.